It's March 1st! That means the two longest and coldest months of the year are over-YAY!!
Our March is going to be crazy busy. For all of you basketball lovers, I'm afraid that I will not be referring to basketball's March madness in this post. Sorry.
First and foremost, I can't go on without sharing the amazing, wonderful news that
Jenn
and
Courtney
already shared on their blogs.
This past Wednesday my Dad was officially declared
CANCER FREE
! I can't even tell you how much joy this brings to m! I've actually had moments when I've been crying tears of joy over this wonderful news. God is so good! I couldn't help but think of this quote when I was thinking of the journey our family has been on this year;
Okay, so maybe it's a bit of a stretch to use that quote with this situation, but I LOVE this quote from Lord of the Rings. I couldn't help but post the whole quote below. :)
"It's like in the great stories Mr. Frodo, the ones that really mattered. Full of darkness and danger they were, and sometimes you didn't want to know the end because how could the end be happy? How could the world go back to the way it was when so much bad had happened? But in the end it's only a passing thing this shadow, even darkness must pass. A new day will come, and when the sun shines it'll shine out the clearer!"
Now I'm getting off topic. All I can say is, Dad, you're my hero and I'm so thankful that we get to have you around for many, many more years (Lord willing). :)
Now, back to the insanity that is this month. Caleb and I have so much planned that my head is spinning a bit. We're going from trying to fill weekends that are wide open to having so much going on I don't know how we'll manage it all.
Next weekend I have to leave my babies for 3 days and Caleb and I are flying with his parents to San Francisco to visit his Grandma Janette, aunts, uncles and cousins. It's been a while since we've been to California to visit his family and it's past time considering our grandmothers are getting well into their 90s and we don't know how much time we have left with them. It will be a fun time.
It's always so bittersweet leaving my babes behind. On one hand, I know I could use a break and enjoy some time alone(ish) with the hubby and enjoy some adult time. On the other hand, I always miss them terribly and almost everything, EVERYTHING makes me think of them and what they're doing. In this case the statement of "absence makes the heart grow fonder" completely applies to me. It helps to know they'll be in good hands with my sister Alli and my mom.
Then, after we return home from that trip, Caleb will have 1 week of work and then it's his spring break. On Sunday the 17th we'll be going to my sister Alli's house for a gender reveal party. Alli and Brian are expecting their first baby just weeks after our little one is born. It should be a lot of fun!
We always try to do something fun with the kids during spring break even if it's not a huge vacation.
Last year we got a hotel and spent a couple days and nights in Denver
.
We can't go too far this year due to my pregnancy, and we didn't want to do Denver again, so we are surprising the kids with a couple of days and nights in Colorado Springs.
We plan on going to see Focus on the Family (they have some great play rooms, a huge slide, and an old fashioned soda shoppe),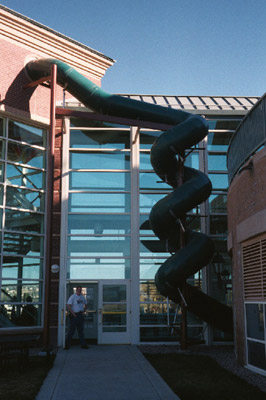 In between doing those activities I'm sure we'll spend some time at the hotel, swimming in the pool. :)
After we get home from that mini-vacation we'll be heading up to the family cabin for the weekend to see Caleb's brother and SIL. Or as the kids call them "Uncle Nate and Aunt Amanda". Nate and Amanda live out of state and we only get to see them about 3-4 times a year. When they're in town, they love to spend time at the cabin and we enjoy an excuse to get up there too. :) Ellie's had a special bond with them ever since she was a flower girl in their wedding almost 2 years ago so she's really excited to see them. :)
Then, once spring break is over Caleb returns to work for 4 days and then we're off to Breckenridge for a vacation with my side of the family. We'll be gone over the Easter weekend.
That's 4 sisters and their husbands, my parents, my 3 nieces and 1 nephew, and our 2 kids all staying in the same home. If you counted that's 16 people all under one roof!
It helps that the house we're staying in is large and beautiful (although I hope it's not so beautiful that we destroy it-ha!).
My family never, I mean NEVER takes a vacation together so I'm REALLY hoping it goes well and that we still like each other when the weekend is over.
On top of all of the traveling and having fun, we have SIX birthdays to celebrate in March. We have my sister Alli's, then my nephew Nehemiah, then my BIL Jon, then Ethan's 2nd birthday, then my FIL Duncan and my BIL Brian share a birthday at the end of the month. Oy vey!
And then, when it's all said and done it will be April. Whew! I'm exhausted just from writing this post. It's a lot of fun, but a lot of craziness. And a lot of spending. I hope we survive it all. ;)